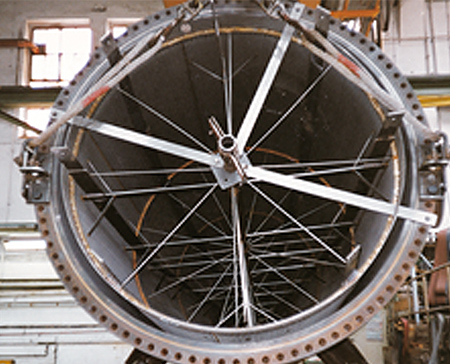 Special projects / References
A well-known chemical concern had a problem almost impossible to solve:
The chrome plating of the interior of a gas scrubber with a diameter of 3,000 mm and a total length of 8,600 mm.
After thorough planning and coordination with our customer, this task was carried out to the unqualified satisfaction of the customer. This project was completed in two months, including the additional work undertaken by us, such as, for example. the de-scaling of the surface.
Since the internal chrome plating carried out by us, the gas scrubber has been in operation without reworking for 5 years whereas previously it had been necessary to replace it every 12 months due to wear.
Salvaging of the "Estonia"
Within a very short time, we were able to chrome the cylinder of the hydraulic gear for the salvaging of the "Estonia" and deliver just in time.
We made the "impossible" possible!
Within only 2 days, we reworked a piston rod of a diameter of 800 mm and a total length of 16 meters for our Italian customer although this was outside our usual range of work.