1. Description of fog test with various sodium chloride solutions as per DIN EN ISO 9227.
2.1. Principles of the method
Fog tests as specified by the standard are tests with a continuous spray of aqueous sodium chloride solution with a mass concentration of 50 g/l as an aggressive medium. Spraying is carried out with the aid of compressed air.
2.2. Test chamber
A heated test chamber with pressure compensation and the necessary measuring and regulating equipment for the setting and maintenance of a test temperature of 35 +/- 2°C is required for testing in accordance with DIN EN ISO 9227-NSS (Salt spray fog test). The test chamber must have a volume of min. 400 l and be constructed in such a manner that drops of the fog spray from the ceiling, side-walls and deflectors do not fall on the object to be tested.
2.3. Schematic diagram of a test device
2.4. Test objects
The test objects should be about 50 mm in height, about 50 mm wide, 100 mm long and 0.6 to 1.5 mm thick.
2.5. Exposure
The test objects are placed on edge at an angle of 60° to 75° to the horizontal in the test device with the test surface facing upward and exposed as specified in DIN 50021-SS.
3. Test arrangement based on DIN 50021-SS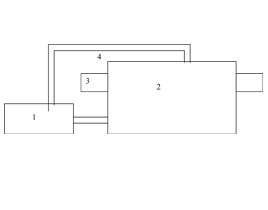 1. Container for test solution (NaCl-solution 50 g/l D-water), pump and heating
2. Container for the test object
3. Test object / Piston rod
4. Feed pipe with spray head
4. Preparation for test
Since the piston rod to be tested was not to be destroyed, the test arrangement described above was chosen. The piston rod was covered over with adhesive tape in the area not to be tested.